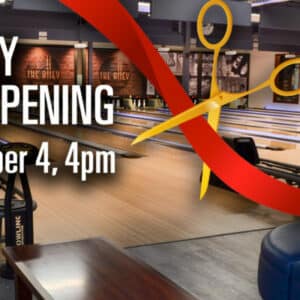 The Alley Lanes & Lounge, a new entertainment establishment located in the De Vargas Center in Santa Fe, NM is pleased to announce its grand opening. An official ribbon-cutting ceremony will take place on Friday, October 4, 2019 at 4:00 pm in celebration.
The Alley offers 12 regulation bowling lanes, six billiard tables, three darts boards, two indoor turf courts for bocce (a smaller version of the classic Italian game), two shuffleboard tables and an arcade with new and classic games. The 20,000-square-foot entertainment center on the north-side of the mall officially opened its doors on September 2nd.
The Alley is a family-owned-and-operated business, run by Santa Fe residents Joey and Hannah Padilla, who bring a spirit of family to work with them each day. Their two elementary-school-age children are often playing there with other family members, and the couple loves watching kids big and small, as well as the young at heart, having fun. As parents, the Padilla's have always looked for safe, enjoyable options to keep their energetic kids engaged in activities that they can share together. Santa Fe has a lot to offer, but when they found themselves frequently traveling out of town for bowling and entertainment, they thought about creating something closer to home.
"We've gotten great feedback from a lot of people who tell us that this is what Santa Fe needed, another family-friendly place to come together," said Joey Padilla.
The decision to partner with Executive Chef Ever Paz and his wife Anna and bring El Sabor (formerly a food truck) to The Alley's kitchen came from the desire to offer a range of excellent quality tapas, salads, sandwiches, burgers and entrées to customers and enhance the overall experience. The Bocce Bar offers local beers on tap, a selection of popular wines and signature cocktails using liquors from local distilleries.
The lanes, equipment and design of the bowling space were provided by US Bowling Corporation, an industry leader and the largest independent builder of new bowling centers in the United States. Hart Construction built the interior. Santa Fe architect Wyndham Carlisle collaborated with the owners on the design of the interior to create a warm-feeling space that encourages movement throughout.
On any given day at The Alley, you can see dozens of smiles (and some intense focus) on the faces of people gathered together to play, eat and drink to release some of the stress and boredom in everyday life. You hear conversations, supportive encouragement, lots of laughter, cheering, a frequent boisterous "WHOO-HOO!" that gets echoed around the room by others and the occasional friendly razzing that comes with any competitive activity among friends and family.
The Alley is located on the north side of the De Vargas Center at 153 Paseo de Peralta Suite A, Santa Fe, NM 87501. Hours are Sunday–Thursday 10am–11pm and Friday–Saturday 10am–midnight. For additional information, visit www.thealleysantafe.com or call 505-557-6789.