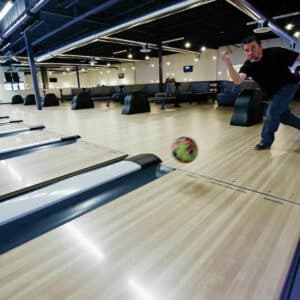 By Teya Vitu, Business Editor, Santa Fe New Mexican | tvitu@sfnewmexican.com
Bowling is the great American dichotomy. Though its numbers have been nosediving since the 1980s, bowling remains the No. 1 participation sport in America, according the U.S. Bowling Congress and the CEO of Bowlero Corp., the largest bowling alley operator. Decades removed from its heyday of the 1950s and '60s, when folks would bowl a few frames while donning squarish shirts with logos for outfits like Sal's Meats, the sport is reinventing itself as more casual entertainment — these days typically paired with other family amusements.
The Alley Lanes & Lounge, finally opening at DeVargas Center around the start of September, falls in line — in a City Different sort of way.
A view of the bowling lanes at The Alley. Click and drag mouse to look around.
Really, it's more The Alley Lanes & Lounge … and pool tables and bocce courts and darts and table shuffleboard and game room and birthday party/corporate party room, plus lunch and dinner.
The menu is light on nachos and hot dogs and instead filled with offerings that include tapas, salmon, paella and smoky paprika pork sausage with fig aioli. But there also are burgers and fries crafted by The Alley's executive chef (yes, an executive chef at a bowling alley) Ever Paz at El Sabor at The Alley. Paz became known in town for his food truck, El Sabor Spanish Tapas y Masss.
Owners Joey and Hannah Padilla have taken the mom and pop business into overdrive at The Alley, where financing challenges for the $2.2 million project have delayed earlier planned openings for March and July until now.
"In Santa Fe, there is a gap about having fun," said Hannah Padilla. "Fun. We're always looking for ways to not have the kids on their iPads. They love Meow Wolf."
But the Padillas wanted something more. So they created this family entertainment center at DeVargas Center — though Joey Padilla cringes at the term "family entertainment center" because it signals bright colors, overwhelming lights and booming music. That's where the City Different comes in…
Read more at SantaFeNewMexican.com »
A view of the billiards area at The Alley Lanes. Click and drag mouse to look around.
A view of bocce area at The Alley. Click and drag mouse to look around.