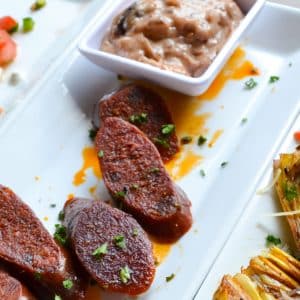 By Zibby Wilder | Santa Fe Reporter | October 22, 2019
Back in the day, a group of friends and I would spend every Friday night at Sunset Bowl, a rambling 50-year-old Seattle bowling alley. Located in Ballard, at that time a damp neighborhood of hard-drinking fishermen, we went mainly for the cheap drinks and karaoke. In a smoky little tiki bar behind the lanes, Karaoke Steve would laugh quietly as we belted out our best (which is not saying much) versions of our favorite tunes. Before settling in to the bar we'd usually play a few frames and try to put down some snacks on which to rest our many, many anticipated vodka gimlets.
As one Yelp-er put it, "Nowhere else can you truly enjoy a basket of greasy, yet crispy, fries and pile of goopy nachos than at Sunset Bowl while throwing down a few frames. The residual grease from the fries also goes well with sticking your fingers into Sunset's balls. I'm convinced that this actually helps your game."
While I agree some good bowling alley food can go a long way toward upping one's game, the thought of eating, then sticking your fingers in dirty holes, then eating again (or touching your face, or someone else's hand, or a karaoke microphone, or … anything) sends shivers up me timbers. I was sad when, in 2010, Sunset Bowl was razed to make way for high-rise condos, but I wasn't sad to lose the image of bowling with my fingers inserted into 50-plus years of congealed fry grease.
Thankfully The Alley (DeVargas Center, 153 Paseo de Peralta, 557-6789) is a grown-up version of the Sunset Bowl, a clean, airy and uncluttered space that eases my mental connection between bowling alleys and decades of grime. It also has bocce, pool, darts and shuffleboard—even a few arcade games and pinball machines tucked into a back corner.
The bar at The Alley (called the Bocce Bar) sits open in the middle of the establishment, fringed by tables and TVs. Many of the signature cocktails include spirits from local distillery Tumbleroot and are made with fresh juices and exotic liqueurs. A step up from my old standard of $3 vodka gimlets or crappy shots of tequila was "The Perfect Game" ($11), a decidedly more grown combination of Tumbleroot plata agave with orange liqueur and fresh lime. There's also a small, but decent, selection of draft beers (available in 16 and 20 ounce pours) from local breweries including Bosque, Santa Fe Brewing, Marble and La Cumbre.
The food is all grown-up, too. Chef Ever Paz and his wife Anna closed the window to their popular El Sabor Tapas y Masss food truck to focus solely on operating El Sabor at The Alley. The small kitchen pumps out a variety of decidedly non-bowling alley-esque dishes, from salads and sandwiches to tacos and full entrees. I was happy to see a menu of real food which did not conjure up images of greasy ball holes so, after a few frames, I washed my hands and set to the game of eating.
The first dish I tried was the alcachofas ($11), grilled artichoke hearts with Kalamata olives, pico de gallo and a hefty dusting of Parmesan cheese. Artichokes are my favorite food and I liked this take on them. They were nicely cooked so I could use a knife and fork (not fingers!) to cut through them. The salty olives and cheese added a nice edge to the sweet artichoke and spicy pico de gallo.
The patatas bravas ($9) with spicy garlic sriracha were also fork-able, the sauce super spicy and the potatoes nice and moist. These went really well with a crispy, creamy aguacate ($11), a flash-fried avocado filled with pico de gallo and topped with a generous amount of tangy lime yogurt sauce.
Not forkable, but also not conjuring up images of greasy fingers, were the curry chicken salad ($11.50) and crispy avocado panini ($10.50). The salad contained a generous amount of chopped, grilled chicken breast in a casual curry aioli made exciting with the crunch of earthy green onions and sweet red grapes. Served with tortilla chips, you have to get your fingers dirty for this one. The panini, filled with an entire flash-fried avocado and topped with provolone, lettuce, tomato, and chipotle aioli, requires getting both your hands dirty. This was a finger-licker for sure. The soft hoagie roll had a hard time holding its contents—the tomatoes slipped on the aioli, the avocado slipped on the bread (as avocado is wont to do). It was a delicious mess to try and eat while sitting at a bowling lane. I ended up rolling it in a paper napkin to keep it together and my hands somewhat out of the game.
This is most definitely not typical bowling alley food, nor is this a typical bowling alley. Just as with the games, there's something everyone will enjoy, even if you might have to get your fingers a little dirty. Just, please, for the rest of us, wash them before you pick up a bowling ball.